Cornwall councillor wants Highway Code to include sat-nav signs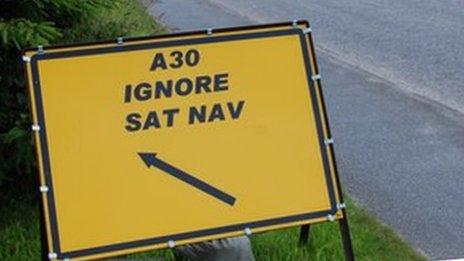 The Highway Code should to be amended to include signs which warn motorists where sat-navs are not suitable, it has been claimed.
Armand Toms, a councillor for Cornwall, wants traffic laws changed so that drivers do not get stuck in many of the narrow roads across the county.
He has tabled a motion calling for changes which he hopes will get the support of full council next week.
He also wants the government to support the introduction of new legislation.
"If you had a sign that said, 'don't use this route' it would help. But the Highway Code doesn't have that at the moment and we would like the government to take notice and put in some commonsense and say 'switch your sat-nav off'," Mr Toms said.
"It's about putting some reason back into driving. The quickest route is probably not always the safest route."
'Scratched, stuck, annoyed'
The East Looe councillor said that even when people can see they may be heading down the wrong route, they continue to drive until they get stuck.
"It (sat-nav) can take you on a route that, if you don't have a small car, you wouldn't want to drive down.
"You see cars getting scratched, people getting annoyed, they get stuck and people really get quite angry, but they followed the sat-nav and didn't use their eyes."
Mr Toms wants the introduction of a bill to control the use of sat-navs and mobile devices giving routes through towns and villages which are not suitable for larger vehicles.
He added that changes to traffic law are made every year and he would now like to see a sign that is legislated in the Highway Code.
"At the end of the day we rely on people coming here on holiday," Mr Toms said.
"If they have a bad experience, and they get stuck or damage their car, are they going to come back? Well they are less likely and we need those visitors."
Councillor Mark Kaczmarek, who has backed the motion, has previously said that drivers in Cornwall are risking a serious accident by following sat-navs.
His comments came after the opening of a new roundabout and one-way system in Scorrier, near Redruth, which confused some navigation systems and sent them down a one-way slipway in the wrong direction.
Related Internet Links
The BBC is not responsible for the content of external sites.