Port Isaac coastguard's 'gut instinct' saves boatman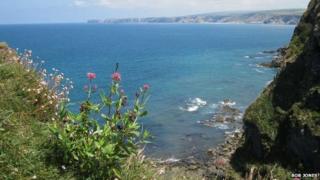 A missing lobster fisherman has been rescued thanks to the "gut instinct" of a coastguard in Cornwall.
The Port Isaac Coastguard team manager raised the alarm on Thursday evening when he realised the man had not returned after two hours.
Despite no distress call being received, he contacted Falmouth Coastguard - which launched a search.
The boat had beached at Cartway Cove and the fisherman was winched to safety by the cliff rescue team.
"After driving around the coast to see if he could find the boat himself, the Port Isaac manager acted on his gut instinct and contacted us," a Falmouth Coastguard spokesman said.
"He knew the local man had borrowed the harbour master's boat just to go and collect his lobster pots, so should have been back within a couple of hours.
"When he contacted us we asked the inshore lifeboat and coastguard team to conduct a search and they located the boat, which had beached and couldn't re-launch.
"With the weather closing in and because of surf conditions, the inshore lifeboat couldn't get close enough safely to attach a line, so the man was winched up the cliff by the coastguard team."
The coastguard manager who raised the alarm does not want to be named, but his actions have been praised by the Maritime and Coastguard Agency (MCA).
"What he did was outstanding," Matt Pavitt, the MCA sector manager for north Cornwall told BBC News.
"He and other volunteers are our eyes and ears everywhere around the coast and we rely on them massively.
"This incident clearly highlights that they save lives."