'No action' over Isles of Scilly headmaster suspension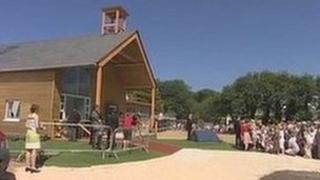 No action should be taken against Isles of Scilly Council or school governors over the suspension of a headmaster, a government report will recommend.
Bryce Wilby was suspended from Five Islands' School after allegations of financial irregularities, which he denies.
A Department for Education (DfE) report has not yet been released but a letter to the council confirms its findings.
However, the DfE said the suspension had breached education law.
It said the Council of the Isles of Scilly and the school's governing body had not met their legal obligations.
'Very difficult situation'
They were warned that Education Secretary Michael Gove was minded to issue a notice saying both bodies had failed to discharge some of their statutory duties.
But in a letter to the council, seen by the BBC, the DfE said: "The minister concluded that, although the local authority made some errors in dealing with procedures, no action or enforcement by the department was required.
"The department also recognised the very difficult situation which was faced by the council, the community and the school at the time."
Following his suspension Mr Wilby resigned from his post and it is believed he is putting together a case for constructive dismissal.
An investigation was launched into allegations that the council and the governors had not done everything lawfully - which both bodies have always denied.
Chairman of governors Ben Julian said they welcomed that no action would be taken and acknowledged the need to address questions raised by the DfE.
'Monitoring the situation'
"Although in many cases there is pertinent and significant factual information that appears not to have been considered, the governors do not wish to divert their energies to a point-by-point rebuttal," he said.
"We are resolved to focus all activity on improving governance at the school in line with the recommendations of the report."
The governors have agreed to reduce the size of the governing body and have commissioned an independent report into governance which will conclude later this month.
The DfE said it was "clear that both the school and the council have broken the law".
It said: "We have written to them setting out our findings and await their responses as to how they will make sure this will not happen again.
"We will continue to monitor the situation and will not hesitate to take action if the necessary improvements are not made."