Classic motorboats head to Falmouth for 10th rally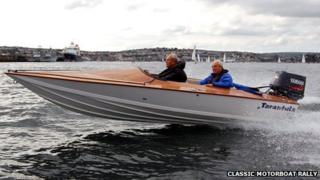 Motorboats stretching back to the 1950s will be in Falmouth later for the start of the Classic Motor Boat Rally.
The event, which is celebrating its 10th anniversary, sees boats spanning the decades arriving in the town from around the UK and abroad.
Those taking part will be moored at the National Maritime Museum Cornwall's pontoon.
The rally is organised by the Classic Motor Boat Association which was established in 1998.
Event organiser Tim Parr said: "This year we have 14 boats taking to the water and putting on the style.
"We're happy to talk to anyone about our passion for these wonderful boats, so why not come along to find out what it's all about?"
The Classic Motor Boat Rally runs from until Sunday at the Maritime Museum in Falmouth.