Sailors from Cornwall train for Rio Olympics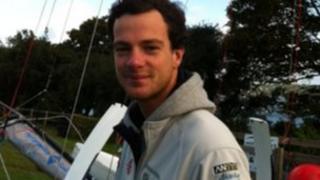 A Cornish pair of sailors are hoping to qualify for the next British Olympic sailing team.
Zennor Pascoe has been chosen to pair Tom Phipps in the "Nacre 17" catamaran class.
Mr Phipps, from Restronguet, is part of British Sailing's Podium Squad but he said only one Great Britain boat can sail in Rio, so competition was fierce.
As part of his training he is taking part in the Little America's Cup in the waters off Falmouth this week.
Mr Phipps said: "You end up giving up a lot for what we want to do. But we're extremely motivated.
"I have been sailing in the class for the last year, but I now have teamed up with Zennor.
"She has not done a huge amount of catamaran sailing before, but it's remarkable how quickly she's settled into the boat."
Previously, Mr Phipps has won two ISAF Youth Sailing World Championship gold medals, and an ISAF silver medal.
He also won the BBC SW Sports Personality of the Year in 2006, which he ranks as his greatest sailing achievement to date.
Mr Phipps has been sailing at Restronguet, since he was five-years-old.
It is the same place that Olympic champion Ben Ainslie learnt to sail as a youngster.