Western Greyhound to axe Cornish bus routes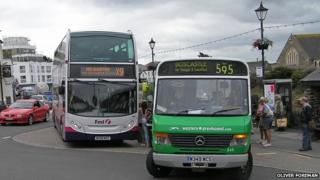 Some bus services in Cornwall are to be axed, Western Greyhound has confirmed.
Routes to go from 3 November include its Penzance and Hayle operation, the 530 in Bude and the 561 Camelford-Wadebridge-Bodmin service, it said.
Elsewhere, the other main provider of buses in Cornwall, First Group, is said to be stopping some routes in Falmouth.
About 90% of the network is currently provided by First and Western Greyhound. Cornwall Council said it was working to protect services.
Staff consultation
Western Greyhound managing director Mark Howarth said the changes came after "extensive negotiations" between the company and council officers after the firm was was told in July that £500,000 of savings "had to be made".
He said "most evening and Sunday journeys will be retained" and he hoped that "Cornwall Council can find some money for partial replacements in the form of community buses or other alternatives to replace the bus routes being withdrawn".
He added a formal consultation had begun for affected staff and that numbers of job losses still had to be finalised.
Several remote villages will be affected by the cuts.
The 530 in north Cornwall runs to villages including Morwenstow and Kilkhampton, while the 561 serves St Breward and St Tudy on Bodmin Moor.
Bert Biscoe, cabinet member for transport and waste, said it had been recognised that one of the proposals put forward by Western Greyhound "was to withdraw all their services from the Penwith area".
He said: "We recognise the impact this would have on local communities and have been endeavouring to work with the company to identify alternative options.
"Ultimately, however, this is a commercial decision for the bus operator."
Cornwall and Falmouth councillor Candy Atherton said she had spoken to First, who confirmed some services in Falmouth would stop at the end of this month. She believes others will be axed later in the year.
"I am appalled that First have not told the town council or ensured that people knew what was happening," she said.
'Lifeline routes'
First told BBC News there would be changes to its services and it would publish details soon.
It added it was assuring drivers no jobs would be lost.
Cornwall Council said because of cuts in central government funding, it had been forced to save £170m over the past four years and had to make a further £196m reduction by 2019.
But last year it approved a £2m budget to make up for a government funding shortfall in bus subsidies.
Transport union the RMT said it would fight cuts of any "lifeline routes" in the South West by First because they could "cut off entire communities".
It said any planned cuts "will particularly hit older people, the poor and those with disabilities".