Cornwall 'in line to get own lending bank'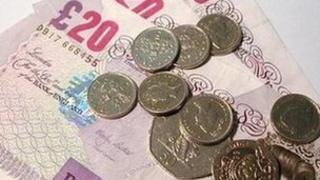 Cornwall could be in line to get its own European-funded lending-for-businesses bank, the BBC understands.
It would be set up with about £100m of European money and would lend cash to businesses setting up in the area, or planning to expand into the county.
The project would be funded from £500m Cornwall is due to get over the next six years to improve its economy.
The Cornwall and Isles of Scilly Local Enterprise Partnership (LEP) scheme must be approved by the EU and the UK.
Local officials told business correspondent Neil Gallacher that was not expected to be a problem.
The LEP, an alliance of business leaders which replaced the South West Regional Development Agency, confirmed the move.
'Excellent track record'
It said in a statement: "Tens of millions of pounds would be earmarked for non-grant business funding that would be repayable and create a self-sustaining business investment fund beyond the life of the programme.
"This would recycle investment in the local economy in perpetuity and is seen as a key move away from a grant culture to a more entrepreneurial economy."
Chairman Chris Pomfret said: "Our message to ministers is that Cornwall and the Isles of Scilly have an excellent track record when it comes to investing public money wisely, but we would like the flexibility to make sure we can get the job done.
"We're at the roadmap stage right now. Once we have agreement early next year on our final investment strategy we can work up the detailed projects that will create growth and jobs over the next seven years."
BBC South West Business Correspondent Neil Gallacher said: "We've seen something a bit like this before - a fund called Finance Cornwall was set up about a decade ago.
"It was part-funded by the EU through the Objective One programme. Before it finished, Finance Cornwall invested £18m in total.
"This new bank would be far bigger than anything seen locally to date. It is possible that least a quarter of the £500m could go into the venture."
The bank would not provide savings accounts, making loans only to businesses.
Several Cornish mining areas in the 19th Century set up their own banks and issued their own banknotes.
In 1974 banknotes were issued by pressure group the Cornish Stannary Parliament partly to "raise money to aid it in the restitution of Cornwall's legal right to partially govern itself".