£2m Treluswell roadworks 'may still go ahead'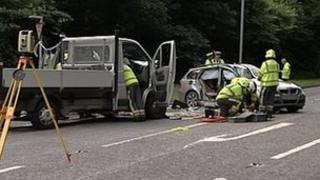 Major roadworks could still go ahead despite Cornwall Council failing to get government funding.
The £2m plans for Treluswell on the A39, near Falmouth, would turn two roundabouts into one.
Cornwall Council applied for funding from the government but was unsuccessful.
A spokesperson said it would continue to bid for funding to "deliver this important transport scheme for Cornwall."
The council said thousands of motorists used the mini roundabouts at Treluswell each day.
In July, a man and woman were killed in a collision at Treluswell.
'Lot of accidents'
The roundabouts mark the point where four roads come together between Truro, Falmouth, Helston and Redruth.
Yvonne Turner, who runs a garage near the roundabout, said she did not think the work would make "any difference" to the traffic jams in the area.
However, she added: "I do think there's a lot of accidents and it's because people don't know how to use double roundabouts, certainly in the tourist season."
In a statement, Cornwall Council said: "Given that the current capacity at this junction could constrain future growth in Falmouth and Penryn the council will continue to seek opportunities for funding".