St Ives contractor fails to open town's public toilets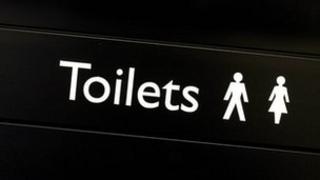 Shops, cafes and pubs in a Cornish town were inundated with people asking to use their toilets because public facilities were not opened.
St Ives Town Council said the job of opening and closing the town's 12 public facilities was normally undertaken by a private contractor.
Visitor Graham Broadhurst, from Henley-on-Thames, said it was "chaotic".
"The queue for the toilet I was waiting to use in a pub was a mile long," said Mr Broadhurst.
"It really was chaotic and people were saying they couldn't get hold of any of the councillors."
'Community spirit'
Although a "very uncomfortable experience", Mr Broadhurst said it would not put him off visiting the town in the future.
"St Ives's is great... but this was a bad advert for it," he added.
Councillor Tim Andrews said he not been able "to get to the bottom of what happened", but declined to name the company responsible.
"A contractor is used to open and close the toilets and for some reason - and it would not be right to speculate - that didn't happen this morning," he told BBC News.
"When shops and businesses became aware of the problem, some put signs in their windows offering facilities.
"The community pulled together and the town council is very appreciative of that."
The councillor added that some of public toilets had now been opened.