Cornwall operations cancelled in bed-blocking row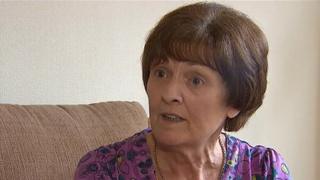 Patients have had operations cancelled at a hospital during a row between managers and care providers over bed-blocking.
The Royal Cornwall Hospital says it had to cancel 14 operations in one day because no beds were available.
Hospital managers said partners such as Cornwall Council were not taking enough patients out of the hospital.
The council said it had been unaware of the problem and resented being "blamed".
The hospital said it had more than 50 patients who were "medically fit" to leave but could not be discharged due to a lack of community health support.
It said cancelling operations at short notice was "unacceptable" and said NHS Kernow, Peninsula Community Health and Cornwall Council needed to "step up to the mark".
'Surprise'
Duncan Browne, interim medical director at the Royal Cornwall Hospital Trust (RCHT), told BBC Radio Cornwall: "Our priority is to keep patients safe and we need our partners in social care and community care to provide the packages of care and the beds for these patients that no longer need to be here."
Chief executive Lezli Boswell added the trust was "deeply sorry" and it was working with providers to resolve the issue.
Kim Carey, director of adult care, health and wellbeing at Cornwall Council, said the situation had "come as a bit of a surprise" on Monday evening.
She said if she had heard about it earlier, plans could have been put in place to "de-escalate the problem".
"I am disappointed that we have got to another crisis at the hospital where the blame is being put on other partners," she said.
"We really need to look at all parts of the system, not just bits of it.
"I cannot have the council blamed for a situation that isn't just our responsibility."
'Huge frustration'
She said 10 people with complex social care needs had been moved from the hospital on Monday.
"We need to look at people requiring social care and we will work with our health partners to get those people out as soon as possible," she said.
Hospital managers warned the situation could get "significantly worse" with increased demand over the winter.
Mr Browne said the hospital was prioritising patients with life-threatening cases, but the situation was a "huge frustration for all our staff".
Patient Lynne Young, from Indian Queens, told BBC News she had spoken to the anaesthetist, the surgeon and had a cannula inserted into her hand before being told there were no beds available and she had to go home.
She said: "I don't understand why the hospital hasn't come up with a strategy to prevent this from happening."
'Dreadful situation'
Mr Browne said: "We try and ensure that everyone can have their operation on that day and so we sometimes have to wait until the last minute.
"We also don't know exactly how many patients are going to be coming through the Emergency Department and we can't tell until the last minute how many people will be discharged to other environments such as community beds."
Sarah Newton, Conservative MP for Truro and Falmouth, said: "Now is the time for the chief executive and leader of Cornwall Council to get round the table with the leaders of our local NHS and sort out this dreadful situation.''
NHS Kernow's managing director Joy Youart said: "I would like to apologise to those patients whose operations were cancelled or were unable to be discharged from hospital.
"We are working closely with health colleagues to ensure that such circumstances occur as rarely as possible. "
Peninsula Community Health said: "We work closely with all our health and social care partners on a daily basis to ensure that patients receive care in the right setting for their needs."