Cornwall woman's anger over five-week operation wait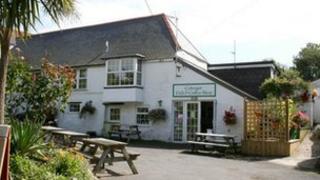 A woman whose operation at the Royal Cornwall Hospital was postponed on the same day must wait another five weeks for the procedure.
Sarah White's hysterectomy was due on Monday, but she has now been told November is the earliest alternative.
Mrs White, 44, who runs a delicatessen, said she cannot afford to take the time off so close to Christmas.
The hospital, at the centre of a row over bed-blocking hitting operations, said there was "no alternative".
Mrs White's operation was among 14 operations postponed on Monday because of a lack of beds. The rescheduled date she has been offered is longer than the hospital trust's 28 day re-booking standard.
Mrs White, of the Colroger delicatessen and coffee shop in Mullion, said: "I was led to believe it would be only a one to two-week wait for another date.
"But I got a call on Wednesday saying the earliest was 11 November.
"I can't take that date because with four weeks recovery off, I would not be back to work until mid December which is a very busy time of year."
The rescheduled date is longer than the hospital trust's 28 day re-booking standard.
Mrs White is attempting to get an earlier date via the hospital's patient advice service.
"I have waited nine months to have this surgery," she said.
"If they can't operate by 25 October, I will have to put it back until February.
"This is my livelihood that they are affecting."
Hospital "understands anxiety'
Jo Gibbs, chief operating officer at the Royal Cornwall Hospital Trust, said: "We are very sorry that Sarah White's operation was cancelled at such short notice this week and apologise sincerely for the inconvenience this has caused.
"The decision to postpone an operation is never taken lightly and we fully understand the anxiety and practical difficulties it can cause.
"We only ever do this when there is simply no alternative.
"We will always do our utmost to re-book patients at the earliest opportunity and wherever possible at a time that is convenient to them."
On Tuesday hospital managers said partners such as Cornwall Council were not taking enough patients out of the hospital.
The council said it had been unaware of the problem and resented being "blamed".
The situation is to be investigated by NHS England which oversees the budget, planning, delivery and day-to-day operation of the NHS.
The hospital, council and local health commissioners have been discussing how to stop bed-blocking affecting operations in the future.