Cornwall Council budget cuts future 'threat' to children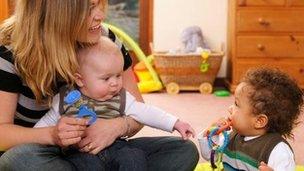 Planned cuts of more than £2m to children's services in Cornwall have been branded short-sighted by parents.
The authority is proposing the savings as part of its draft budget to save £24m.
They include changes to children's mental health services, children's centres, drug and alcohol services and teenage pregnancy services.
The council said no final decisions had yet been made.
Parents attending a local authority-funded weekly meeting group in Marazion said they believed it would be short-sighted to withdraw or reduce funding that could result in the closure of such facilities.
"I'd be quite angry to be honest because I think the friendships that are formed in places like this aren't just between the mothers, but also the children," one first-time mother told BBC News.
"It's such an important resource for people who are struggling.
"To take that away from the community could have a really damaging impact on the future of our communities and villages."
Another parent described the meeting as a "lifeline".
"Whether it's problems with the baby or because you're struggling to cope... it's a real lifeline to just know you're able to come here each week," they said.
A five-week public consultation has finished but Councillor Andrew Wallis, cabinet member for children, schools and families, said service users and staff were still being consulted and "reviewing" services did not automatically mean they would be withdrawn.
"These are just proposals and nothing has been set yet," he said.
"I am reviewing provision for children's centres, but reviewing services doesn't necessarily mean closing them down.
"Sometimes it means just doing it better."
But Councillor Cornelius Olivier said a budget saving this year on children's services could "cost a lot more down the line".
"We need to be thinking of the long term as well as the immediate financial crisis."
Related Internet Links
The BBC is not responsible for the content of external sites.