Safety concern Holywell Bay Nursing Home to close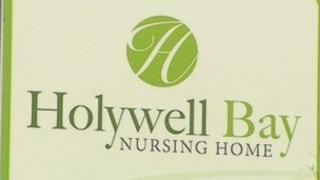 A nursing home which failed to protect patients with dementia and mental health problems is set close a council says.
Admissions to Holywell Bay Nursing Home in Newquay, Cornwall, were suspended in May after an inspection by the Care Quality Commission (CQC).
Cornwall Council and NHS Kernow said they had been informed it was to close.
Insolvency experts said Newport Care Limited, which owns the home, was going into voluntary liquidation.
'Extremely worrying time'
The nursing home currently employs approximately 40 staff and has some 30 residents.
Admissions were suspended to the home following an unannounced CQC visit in May.
Inspectors said not enough was being done to prevent the possibility of abuse or to ensure residents were cared for safely.
The health watchdog also said it had other areas of concern, including a lack of "qualified, skilled and experienced staff" which had a "major impact" on residents.
Newport Care was given two months to make the necessary improvements, however a further inspection in July revealed insufficient action had been taken to address the issues identified.
At that stage the owner said it recognised improvements needed to be made and it was "working hard to do so".
The council and clinical commissioning group NHS Kernow had been carrying out visits to ensure residents' safety.
'Dissolution' of operations
In a joint statement with Cornwall Council, NHS Kernow said it recognised it was "an extremely worrying time" for residents and their families.
It said: "Over the next few days, we will talk to people individually and their families about their needs, and help them find a new place to live."
Newport Care Limited which owned the home has not yet commented.
However FRP Advisory has confirmed it is advising the director and creditors of the company.
In a statement FRP said: "Following a thorough review of the viable options for the company under its current operational and financial structure it has been decided to close the premises as a residential home prior to dissolution of its operations."
FRP said Cornwall Council and CQC would be "kept fully informed of the overall situation".
It said "there is no set closure date".
It went on to say the ongoing care of the home's residents "remains at the heart of the process".
Cornwall Council said anyone with concerns about the home should contact its adult care, health and wellbeing team.