Rock-hit Isles of Scilly supply ship 'undergoing minor repairs'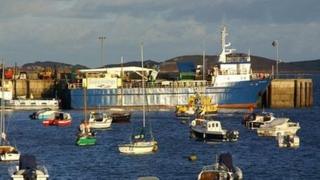 An Isles of Scilly supply ship that hit rocks is undergoing repairs and is due to sail next week, its owner says.
The Gry Maritha was on its way to St Mary's fully laden when it hit Crow Rock at 18:15 GMT last Monday.
Its owner, the Isles of Scilly Steamship Company, said the vessel, which sails from Penzance, should be operational on 6 January, but that might be delayed by poor weather.
The ship is the bulk freight transport servicing the islands.
It also carries fuel to the islands on its year-round trips which take place on Mondays, Wednesdays and Fridays.
The steamship company said there was a "possibility that poor weather could delay the vessel further and a close watch is being kept on the forecast".
It said it had scheduled some freight flights via Newquay with its Skybus aircraft for "a small amount of essential goods".
No-one was hurt when the Gry Maritha hit the rocks. A full investigation has been launched.