World War One: 'Chocolate' soldier's letters to mascot girl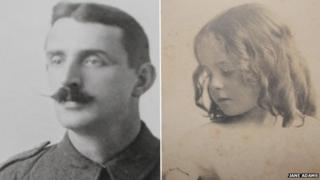 For soldiers serving at the front in World War One, letters and parcels from home provided a welcome respite from the ever-present dangers in the trenches. One message from a six-year-old girl, written on a box of chocolates, led to an enduring relationship between a family in Cornwall and a soldier at the front.
The long relationship between Bombardier Edwin Hassall and the Burbidge family began completely by chance when he picked up the wrapper from a box of chocolates that was lying in a front-line trench.
On it was the name and address of six-year-old Joan Burbidge, which she had insisted her father add to the parcel he was sending to the front.
"I think I can remember running back and saying to my father that the soldier won't know who sent him the chocolate, and daddy standing up in the room and taking down the flaps of the chocolate packet and writing this message from 'little Joan'," she remembered in a BBC documentary made 60 years after the end of the war.
"I then went off to Sunday school and I'm quite sure none of us thought any more about it, I'm sure my father didn't.
"[He] just did it to amuse the child and that was the end of that."
But her father was wrong and six weeks later a reply came from Bombardier Hassall, who explained he had come across her message quite by chance.
"I was taking cover in the trenches recently occupied by the enemy when I idly picked up the enclosed chocolate packet," he wrote.
"I have carried the packet with me, off duty and on for probably a fortnight and have at last found time to send it to you.
"Please forgive me for writing - I thought that you would be interested to know that your name had reached the German line in the hottest contended battle of the war."
Much of the letter's contents would have been lost on a six-year-old, but he was shrewd enough to thank little Joan for "a message from the children of England in who's defence we are fighting" and say how it had "cheered" him.
Joan told her father she wanted him to send a message back to her "chocolate soldier".
"I think there had been a wedding in the family recently - and I said [to] send him my love and tell him I'll marry him when I grow up.
"That evidently amused him very much [as] back came the engagement ring and photograph."
'Limit of human endurance'
So began a correspondence with Joan's father that lasted through the war and beyond - though only the letters from Mr Hassall have survived.
Mr Hassall's sister, Emma, said his chance encounter with "little Joanie" was very important to her brother.
"All through [the war] he carried with him a photo of Joan [that had been] sent out to him, which he regarded as his mascot," she said.
The Imperial War Museum brought the letters to the attention of Maurice Kanarek, who was researching a radio documentary for BBC radio in 1978.
"I was absolutely knocked out by them, which everybody is - he was very articulate, humorous and it just seems such a sensitive evocation of that time," he said.
The content of his letters were mostly directed to Joan's father, but were read aloud to the family in Wadebridge, including aunts and uncles.
They paint a vivid picture of the dangers front-line troops faced.
"I thought the Somme was the limit of human endurance and fortitude but the war increases in bitterness and frightfulness every day, and the future holds no limit," Bombardier Hassall wrote.
"It must go on and on until we stagger exhausted into the arms of victory - when that will be God only knows."
'Great sacrifice'
He continued to write once the war had ended, with his thoughts turning to the new world awaiting the returning troops.
"My war gratuity won't recompense me for lost opportunities - I want a job that will support a wife and family and relieve me of financial worry for all time and if don't get it I shall say I've been betrayed," he said.
Sadly, his dreams of a happy and prosperous family life were dashed by a long illness leading to an early death in 1923.
His sister said the war had changed his whole personality.
"Before the war he was always so fun and full of the joy of life - he saw humour in everything and was a favourite wherever he went although he was essentially a man's man, being rather shy in ladies society," she said.
"After the war, he was much more serious and grave which was not to be wondered at considering what he had been through."
A line from one of his letters sums up the lost hopes of many soldiers who fought in the "war to end all wars".
"As a people we're called on to remember the glorious dead but let everyone also remember that they made the great sacrifice for the good of the whole of mankind and not just the fortunate few," he said.
"Their first wish would be that their old comrades are fairly treated and live in reasonable comfort until that last post."