Newquay policeman rescues man from surf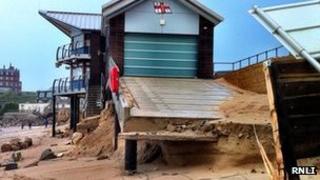 A police officer has spoken about how he rescued a man from heavy surf in Cornwall.
Sgt Reg Butler, of Devon and Cornwall Police, pulled the man to safety at 03:00 GMT on Saturday in treacherous conditions.
Officers secured a line to Sgt Butler, who waded out to pull the man to shore at Towan beach in Newquay.
Sgt Butler said "another 30 seconds" and the man could have been washed out to sea.
Alcohol clue
The rescue came amid stormy conditions and large sea swells which caused flooding around the Cornwall coastline.
Sgt Butler said that he and other officers had been checking the beach when they saw the man floundering in the sea.
"A couple of waves were 6ft (1.8m) tall and brushed him off his feet no problem at all," he said.
"When I went out to get him I was only knee deep in water and tied off to a rope and I was struggling to keep my footing."
He said that a gap in the waves gave him an opportunity to grab the man.
"We were at the point where we were not going into the water because it would have been too dangerous.
"Another 30 seconds and he would have been washed out and the situation could have been tragic."
He said the man, who appeared to have been drinking, was taken to hospital for a check-up.
"Alcohol does appear to have played a part in it," he said.