Cornwall Council chief Andrew Kerr in bed-blocking pledge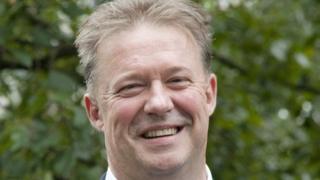 The new chief executive of Cornwall Council says he wants to stop the problem of hospital bed-blocking.
Andrew Kerr said the council wanted to improve communications with hospitals.
Last October the Royal Cornwall Hospital (RCH) and Cornwall Council said the situation would improve after 14 operations were cancelled in a week.
Bed blocking, or delayed discharges, happen when patients are ready to leave hospital but their necessary social care has not been put in place.
Almost 150 patients ready to be discharged at the RCH were blocking beds this week.
The figure for the Royal Cornwall Hospital of 147 compares with an average of 101 beds blocked for hospitals in England, according to NHS figures.
Mr Kerr, 54, said: "It is not just a council problem, health and social care needs to be better integrated.
"We are starting to get a system that works between the hospital discharge system and social care."
He said he wanted to "maintain a caring council" while making savings of nearly £200m.
Mr Kerr is responsible for a budget of about £1bn which is being cut by £196m by 2018-19, on top of £170m of savings since 2010.
Cornwall Council, which is ruled by a Liberal Democrat and independent coalition, is considering which services to cut.
Council tax is due to rise next year and each year until 2018-19 by 1.97%.
But Mr Kerr warned that frontline services could not be protected without more spending cuts elsewhere.
He said: "We are committed to working with local councils and local people to see what's important to them and give them a choice about what we close and cut."
Mr Kerr, whose salary is between £160,000 and £165,000, has worked in local government since 1982 when he was a leisure officer in Falkirk.
"I've come from the bottom of the ranks and I've made my way up through local government which is never very well paid," he said
"I applied for the job at market rate for the chief executive's job.
"They needed a person with the right experience and I hope I am that person.
"I think I am, I bring the right the experience and the right knowledge."
He replaces Kevin Lavery, who earned £190,000 before leaving for New Zealand.