Cornwall Council U-turn over sandbag charges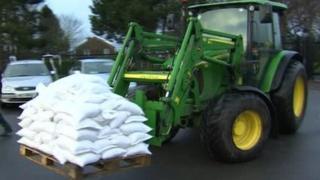 Cornwall Council has reversed its policy to charge flood-hit residents for sandbags.
Deputy Prime Minister Nick Clegg urged the authority to change its policy when he visited the county on Thursday. Prime Minister David Cameron has also urged councils not to charge.
Previously the council said it did not have a statutory duty to provide them.
A spokesman said sandbags would be available ahead of the next high tides for areas in Cornwall most at risk.
Crews from the council will be distributing up to 1,000 sandbags in each of the following areas, Penzance, Helston, Looe and Bude.
Peter Marsh, the interim director of environment, said: "Over the past few hours we have been working with our partners to identify the areas which are at greatest risk of flooding as a result of today's severe weather conditions."
"Sandbags are being distributed in these areas so they are prepared for tonight's high tide."
Councillor Geoff Brown, cabinet member for homes and communities, said: "The previous policy of the council, agreed by the last administration, was that the council would not provide sandbags, free or otherwise.
"We have now been able to get assurances... that the government will fully reimburse councils for providing sandbags.
"We are grateful for that assurance after some considerable uncertainty."
Previously the council said residents could buy sandbags from its contractor Cormac Solutions - which charges £3 per bag.
Earlier this week Prime Minister David Cameron said councils should not charge for sandbags, insisting that "100%" of the money spent on flood relief would be reimbursed.
In Devon, Torbay Council said it had a supply of 1,000 sandbags for emergencies, which would be provided free to those "subject to immediate risk".