Royal Cornwall Hospital A&E rise causes 'major concern'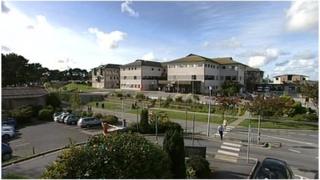 A hospital which had its busiest month for emergency cases for two years has said the impact on the rest of it services was a "major concern".
Issues raised in the Royal Cornwall Hospitals Trust (RCHT) board papers include bed-blocking and the length of time patients stay in the hospital.
Dr Rob Parry, RCHT medical director, said it was working to make improvements.
Hospital bosses are discussing the papers for January.
The hospital said emergency cases had increased by 8% from January 2012 to January 2014, with last month's total of 3,513 being the highest monthly figure for two years.
'Very sorry'
A spokeswoman said: "It would be hard to pinpoint any one reason for the rise, largely a higher volume of older people presenting with conditions made more complex by underlying and/or long-term medical conditions."
They show the number of delayed discharges - or beds being blocked - reached 47 on 13 January, but fell to 18 by the end of the month.
Last week, NHS statistics showed 147 beds were "blocked" at the hospital and only 73% of accident and emergency patients were seen within four hours - considerably lower than the government's 95% target.
Dr Parry said: "We are very sorry that some patients have experienced delays in admission or postponement of planned surgery in recent weeks.
"Together with our health and social care partners we are prioritising the need to work together to improve patient flow, to ensure patients receive their care and treatment in the setting most appropriate to their needs."