Kingsand storm hero's bravery praised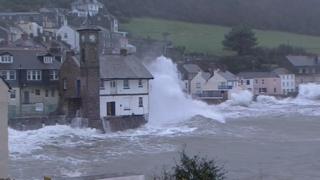 Local people have praised the bravery of a Cornishman who risked his life to help a storm-hit coastal community.
When massive waves hit Kingsand and Cawsand twice in a week, George Trubody rescued stranded residents and helped to co-ordinate the emergency response.
"I think he deserves the OBE," Kingsand resident Alan Hudson said.
Mr Trubody, a local councillor and former fisherman, said he was astonished, but very thankful, that no lives were lost.
Adrenaline surge
"I thought the ingredients were there for someone to be seriously injured or killed," he told BBC News.
"I've never seen anything like it. It was terrifying, but adrenaline just kicks in and all I kept thinking about was making sure people were safe."
Resident Jane Scott said at the height of the storm she watched from an upstairs window as Mr Trubody risked his life to help others.
"Without George it would have been even more terrifying," she said.
Mr Trubody's local knowledge helped coastguards evacuate the properties most in danger, including Mr Hudson's seafront home.
As massive waves smashed the windows, crashed on to the roof and threatened to overwhelm his house, Mr Hudson said Mr Trubody was there to help.
"I think he was really the ace who saved us all and did far more than the call of duty," he said.