Perranporth beach bomb: Woman took home WW2 device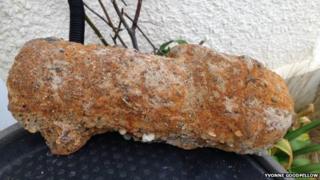 A woman who inadvertently took home an unexploded bomb from a beach in Cornwall has said she was "not scared" that it could have exploded.
Yvonne Goodfellow found what she thought was a piece of concrete at Perranporth Beach, on 17 February.
It was only when another bomb was found five days later on the same beach that she questioned what she had.
She alerted the emergency services and the bomb disposal team removed it.
Ms Goodfellow was told her "concrete" was, in fact, a World War Two practice bomb, the Royal Navy bomb team from Plymouth confirmed.
"I was told they don't normally have explosives in them but the team told me that this one did," she said.
Ms Goodfellow said her dog dug up the bomb, but she thought it was part of an old wreck or barricade.
"It was very heavy and looked very interesting and I brought it home by leaning it on my hip," she explained.
"My husband jokingly said 'You found yourself a bomb'."
But, it was only after a device was found on the beach on Saturday Ms Goodfellow thought her husband might be right and contacted St Agnes Search and Rescue, who alerted police.
Ms Goodfellow said: "I really wasn't scared that it might explode... it had been there for years and years and I had carried it home and it hadn't exploded.
"In hindsight perhaps it was a bit silly."