Perranporth body: Naked body may come from boat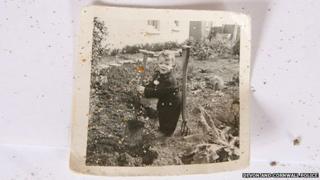 A man whose naked body was found on a Cornish beach may have been thrown from a ship or boat, it is thought.
The corpse, found on Perranporth beach on Tuesday wearing only a pair of socks and one shoe, has yet to be identified.
Devon and Cornwall Police said the man's death was being treated as suspicious as his injuries were "not caused by natural events".
A spokesperson said the possibility he was on a boat in the area was "one of many possible lines of inquiry".
It is believed the man had not been in the water for more than 24 hours.
The victim's injuries, which have not been revealed, were discovered during a post-mortem examination.
Det Ch Insp Dave Thorne said identifying the man was the key to the investigation.
"Without knowing who he is, it is very difficult to find out what happened to him and establish the circumstances surrounding his death."
The force has issued photographs, including a picture of a young boy, dated 13 April 1952, a green/blue rucksack and a woolly hat that were found on Perranporth beach.
Police are unsure whether the items belonged to the dead man or if they were lost by someone who was visiting the beach.