Kingsand clock tower 'was facing demolition'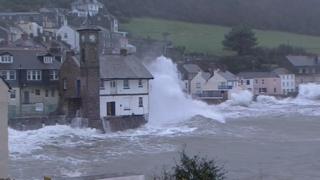 The engineer in charge of saving a clock tower in Cornwall damaged by last month's storms has said it was extremely close to being demolished.
The landmark building in Kingsand was damaged after waves and storms destroyed some of its foundations.
Civil engineer John Grimes said supports had been put in place to keep it upright.
Measurements reveal the top of the clock tower has moved by about 1.5cm (0.6in), he added.
The Grade II listed tower was damaged twice by storms. After damage to the foundations, a second storm created a hole in its base.
Mr Grimes said: "When I saw it, my first thoughts were that we're not going to be able to save this one.
"Fortunately the configuration of the floor meant it was easy to get a couple of props in underneath and they were immediately adding support to the building."
Plans to ensure it was protected included raising a sea wall at its base, engineers said.
Repair costs of the building, which has been inspected by English Heritage, are thought to be about £100,000.