Trade loss fear during Looe road closure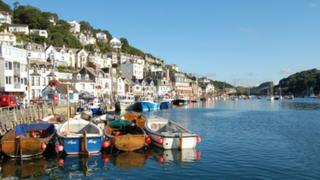 Businesses in a Cornish tourist town say they will lose up to 60% of their holiday trade when a road is closed for four months from Monday.
Cornwall Council will start work to stabilise the area of St Martin's Road in Looe, following a landslip last year which killed a 68-year-old woman.
Some businesses in the resort want the work to be delayed until after the main summer season.
Cornwall Council said it would launch a campaign to promote the area.
Simon Barber, who runs Looe Chandlery, said: "It's the main road into Looe from Plymouth.
"It will be closed again until July. We went through that closure last year. I don't know if we can stand a second season of it being closed again."
Businesses in the resort are concerned the roadworks are taking place over Easter.
'Council hasn't listened'
Neil Hipkiss, who runs the Trehaven Manor Hotel in Looe, said: "I did a poll and 70% of the population wanted the work to be done in the winter.
"I don't think Cornwall Council has listened to people.
"During last year's closure we were 60% down on the takings of the previous year."
The stabilising work comes almost a year after 68-year-old Susan Norman was killed in the collapse of Veronica Flats.
The council said it would be working with partners to "ensure that access to and from Looe is made as easy as possible".
A liaison officer has been appointed by the authority to act as a first point of contact for concerned residents and businesses during the works.
The council has also relaunched its "Looe is Open for Business" campaign, which was held during last year's road closures.