Newlyn quarry death choir ends after more than 90 years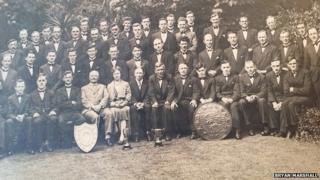 A Cornish choir, which was formed after the death of a quarry worker, will end after more than 90 years because of dwindling members.
The Newlyn Male Voice Choir, from west Cornwall, first performed in 1921 to raise money for the worker's family.
Over the decades the group has performed across the UK, but membership has now dropped to just 13 singers.
Chorister Bryan Marshall said: "It's a sad day for Newlyn and a sad day for the Cornish music scene."
Mr Marshall said most of the younger generation have other interests.
"You have to look at the age group above 45-years-old, but it is quite a commitment," he added.
Singer Michael George said there are a number of choirs in west Cornwall which compete for members.
"The younger generation have got it harder than I did, they take on two jobs and they just can't come to the choir.
"Another day, another dollar and we will probably find somewhere else to sing."