Shifting sands 'putting lives at risk' in Cornwall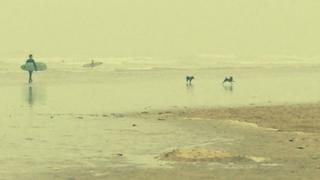 Shifting sands have changed rip-current patterns at beaches in Cornwall, the RNLI and coastguards have warned.
Several beaches have seen the alterations after recent stormy weather changed sea bed shapes, the organisations said.
Lifeguards were called to three incidents in a week at Chapel Porth, St Agnes, as a result, they added.
Surfers, even experienced ones, are thought to be particularly at risk from the changing currents.
Ken Bazeley, from Falmouth Coastguard, said: "These do pose a problem.
"We're blessed in the summer months by lifeguards who can point these [changes] out. But it doesn't help at this time of the year."
Vertical sand wall
Storms had also taken away some signs warning of the dangers of currents, coastguards added.
Local teacher and volunteer lifeguard Vicky Gould, who helps educate children about the dangers of the sea, said: "Beyond Perranporth, further down to Penhale, chunks of sand have come away from sand dunes.
"There was was a natural gradient going into the water, but it's now a vertical sand wall and then quite a flat beach."
A rip current is a narrow current of water which runs perpendicular to the shoreline.