Isles of Scilly sea defences 'unlikely'' says councillor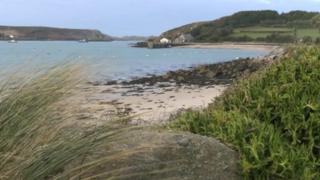 Building sea defences to hold back stormy seas in the Isles of Scilly is unlikely to happen, according to a senior councillor.
There was a call for the defences after Bryher was badly hit by the winter storms.
Steve Sims, chair of the council General Purposes Committee, said the council was unlikely to get £5m from the government to protect five houses.
He said that level of investment was not practical for a small area.
Mr Sims said: "I don't think it is particularly useful as you are fighting the force of nature and you are going to lose.
"We would have to get money to do it and I don't think Defra would give us £5m to put rocks out to sea to protect five houses."
Winds of up to 92mph (148km/h) were recorded in stormy weather which battered the islands and the South West at the beginning of February.
Marion Bennett, a councillor living on Bryher, said: "Nobody on Bryher wants to act like King Canute; that is ridiculous.
"I do think it is unrealistic to expect government funds to provide sea defences for the island but what they should do is to help us delay the process of erosion and destruction.