Garden return for Heligan emus a century later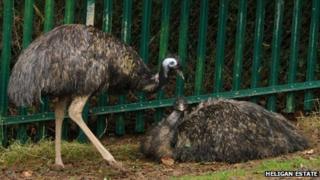 Emus have returned to Cornwall's Heligan Gardens, 100 years after they were last in residence.
In its Victorian heyday, the Heligan Estate near Mevagissey was home to a wealth of exotic plantings and a variety of pets.
The return of emus to the attraction is part of the commemoration of the outbreak of World War 1.
A series of events are planned including community activities with outdoor theatre company Wild Works.
Michael Hart, Heligan Stock Manager, said: "We have been researching the livestock and practices that took place at Heligan a hundred years ago.
"In their Victorian heyday the Heligan landowners, the Tremayne family, had a fascination with exotic plants and pets, and archive images reveal a number of emus roaming the estate."
A pair of emus has now arrived from the Wingz Bird and Animal Sanctuary near St Austell.
Grenville Allen, of the sanctuary, said: "We are delighted to have found such a great new home for our emus, Queenie and Edmund.
"It's also great that they have such historical relevance to Heligan, too."
The gardens were created by members of the Tremayne family from the mid-18th Century up to the beginning of the 20th Century. They were neglected after the start of WW1, but were restored in the 1990s.
Ahead of the commemorations the West Lawn at Heligan has been ploughed and planted with poppy seeds that, once in flower, will stretch into the distance towards Mevagissey.