Row over dead Christmas trees beach 'eyesore'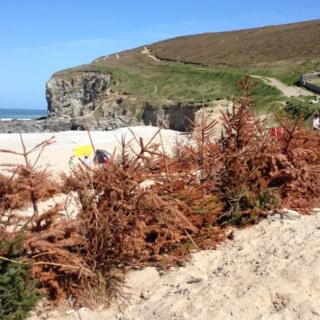 A scheme which saw used Christmas trees planted on a beach in Cornwall to try and stop erosion has been criticised for making the area "an eyesore".
The 100 trees were set in sand at Porthtowan in the hope that dunes would form around them.
A community group said the scheme had failed and the trees could damage tourism but Cornwall Council had threatened action if they are removed.
The council said permission was needed to remove anything from its land.
'Very concerned'
The trees were planted in January, with Cornwall Council claiming they would act as wind traps allowing marram grass to grow and hold sand together.
Luke Morris, who runs the nearby Blue Bar, said the trees were now "an eyesore on what is a fantastic beach."
He said: "It's alienating visitors at a time when Cornwall, as a whole, needs as much support as it can get."
Rose Trengove, of the Porthtowan Dunes Community Group, said: "We were told by the council's dunes expert that those trees would be covered by sand come April.
"We wanted to see if it would work, but it hasn't and is now an eyesore and a blight."
Group leader Anne Corrigan said the council would not allow members of the local community to remove them.
She said: "We, as a community, will not put up with this any more."
Cornwall Councillor Joyce Duffin said: "I can't comment if the trees are or are not working, though I think they are trapping some of the sand.
"But they would need to have permission [to carry out any work] because it's council land."
She added she wanted the organisation's wishes to be addressed as soon as possible.