Children's Easter eggs broken in Bristol Airport search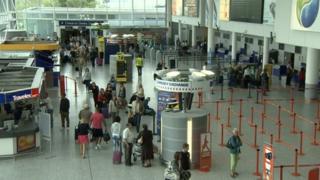 Children were left "devastated" after staff at Bristol Airport destroyed their Easter eggs in a security check.
The youngsters were returning home to Italy after visiting their grandfather Tom Marsland in Cornwall when a security officer searched the bags of the children.
Bristol Airport has apologised and said a full internal investigation is due to take place.
They said replacement Easter eggs are also due to be sent to the children.
Mr Marsland's daughter, Natalie Marsland-Coniglione, had returned to Coverack in Cornwall with her daughters Maya, aged five, and Ocean, aged two, for a visit.
After an Easter egg hunt with their grandfather the children collected six Easter eggs which they planned to take home.
'Picked on'
But during a search the eggs were pierced by the fingers and thumbs of a security officer.
Mr Marsland said the search was "completely over the top" and his granddaughters had been left feeling "picked on" and "really upset".
"They were pretty stunned and Maya was devastated the man had broken up her Easter eggs," he said.
He said his family regularly visit so only carry hand luggage and the eggs were in the children's rucksacks.
Jacqui Mills, from Bristol Airport, said: "Our teams are highly trained and they should not deal with children or any passenger in an aggressive way.
"This is the first time I've heard of eggs being broken during a search.
"We do apologise. We will send Easter eggs for the children."
Mr Marsland said it was a "wonderful response".