Man killed as boat capsizes at Bideford Bar, Devon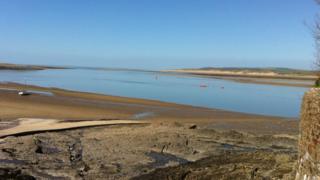 One man has died and another is in hospital after a boat capsized in a river estuary in north Devon, police said.
It is understood their pleasure craft overturned at Bideford Bar, two miles offshore, at about 11:30 BST.
Two dogs were also recovered but one was dead, said the Maritime and Coastguard Agency.
Both men, who were in their 30s, were found without lifejackets, said coastguard watch manager David Hughes.
He said: "Lifejackets are useless unless worn because when the unexpected happens there is no time to put one on.
"Bideford Bar is quite treacherous, but the conditions were fine."
A Devon and Cornwall Police spokesman said the deceased man's next-of-kin were yet to be informed.
He said the other man had only "minor injuries" and was taken to the Royal Devon and Exeter Hospital.
An Appledore lifeboat was launched and brought the boat ashore.
A spokesman for the lifeboat said four RNLI volunteers were called out to the scene and the crew "would have been there in a matter of minutes".
An RAF search and rescue helicopter was also sent to the scene.