Bishop of Truro criticises government funding cuts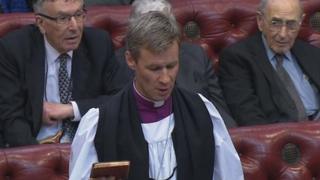 Cuts in local authority spending are having "sinful consequences", the Bishop of Truro has claimed.
The Right Reverend Tim Thornton said policies which caused harm to individuals could be considered to contain "sinful elements".
Bishop Thornton acknowledged government measures may not be intended to cause harm and politicians had "difficult choices to make".
The government said it was spending £94bn a year on working age benefits.
Speaking on BBC Radio 5 Live's Pienaar's Politics, Bishop Thornton said: "Some policies that then do harm to people by perhaps focusing on resources in one place and not another can have sinful consequences and elements in them.
"Part of what I see happening down here in Cornwall is that some of the pressures that some of the local authorities are being put under lead to some very difficult decisions about where resources are allocated.
"I am not saying that it is a sin. I am saying that some of these policies have sinful consequences with sinful elements in them."
The bishop is currently co-chairing an all-party parliamentary inquiry into food poverty.
His intervention comes after Prime Minister David Cameron last week sought to emphasise the importance to him of his Christian faith.
The government has been at odds with church leaders since the Trussell Trust - a Christian charity - published figures on Wednesday that highlight the reliance of growing numbers of people on handouts from food banks.
Last week, the government announced it was spending £94bn a year on working age benefits to provide a safety net to millions of people on low incomes.
It also insisted its welfare reforms will promote work and lift millions of people out of poverty.