Mystery oily substance on Cornwall's Tregonhawke Beach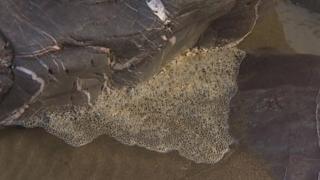 Tests are to be carried out on an oily substance that has been found in the sea and on a beach in Cornwall.
Brixham Coastguards said the unknown pollution had been found at Tregonhawke Beach, Whitsand Bay.
Samples of the substance, which is brown in colour, have been collected by the Maritime and Coastguard Agency (MCA) and will be analysed.
A coastguard spokesman said it was also found on beaches east and west of Tregonhawke on Saturday.
The agency said there were currently no warnings in place for people to stay away from the area.