Pay deal reached for Cornwall Council staff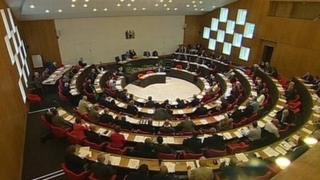 A deal has been reached between unions and Cornwall Council over the future pay of staff.
Proposals include introducing a living wage and retaining current redundancy pay levels and national terms in relation to sick pay.
Cornwall Council, which has to save £190m in the next five years, said the proposals would save it more than £5m.
Unison said members would be balloted but they had "protected services and helped the lower paid".
Andrew Kerr, chief executive of Cornwall Council, said the agreement followed negotiations with the main trade unions, including Unison, GMB and Unite.
The proposals include:
Implementation of the living wage - an informal benchmark of pay - from 1 April 2015
Commitment to the national annual pay agreement until September 2017 (expected to be at least 1% for 2014)
Commitment to keep national terms and conditions including sick pay until September 2017
Keep existing redundancy payments until September 2017
Stuart Roden, from Unison, said: "We believe that these proposals strike the right balance between protecting services and helping the lower paid.
"We will, therefore, be recommending acceptance of the package, but this is subject to a ballot of all members."
The Liberal Democrat-Independent controlled council said £400,000 had already been saved after a re-organisation of its management structure reduced the number of directorates from six to three.