'Retro rubbish' washed up on UK beaches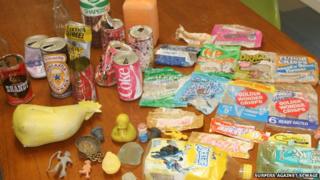 Campaigners have released pictures of washed-up beach litter dating back to the 1960s in an attempt to raise awareness of sea pollution.
The retro rubbish is among tonnes collected by Surfers Against Sewage (SAS) over the last three years.
It includes Golden Wonder crisp packets dating back to 1967 and 1968 and a Revels packet from the 1980s.
More than 25 tonnes of rubbish were collected at 130 SAS-organised beach clean events across the UK this spring.
The Revels packet, dating back to 1983, was found by students from Truro and Penwith College.
Andy Cummins of SAS said: "It raises the awareness of the problem of human litter in the seas.
"Most of the things we find are made of plastic and they are breaking down into smaller pieces.
"This becomes a plastic soup which is inadvertently eaten by marine life."
The finds have been publicised as a Plymouth University study revealed litter in remote areas of the world's seabed.
Scientists took nearly 600 samples from across the Atlantic and Arctic Oceans and the Mediterranean Sea, at depths ranging from 35m (115ft) to 4.5km (2.8 miles).
Litter was found at each site, with plastic accounting for 41% and derelict fishing gear 34%.
Dr Kerry Howell, from the university's Marine Institute, said: "This survey has shown that human litter is present in all marine habitats, from beaches to the most remote and deepest parts of the oceans.
"Most of the deep sea remains unexplored by humans and these are our first visits to many of these sites, but we were shocked to find that our rubbish has got there before us."