Second World War vehicles up for auction in Cornwall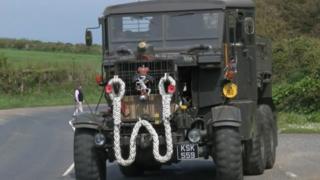 Vehicles used in the Second World War are set to be put up for auction in Millbrook in Cornwall.
The 70-year-old items include military vehicles, vintage agricultural tractors, commercial vehicles and machinery.
The auction list has been accumulated and restored over nearly 30 years by retired farmer Bob White in his family barn.
The auction is being held through the Kivells' Heritage Department on May 17.
Mr White said: "As a little boy in the build up to D-Day, I would see convoys virtually every day of various military vehicles and I think that's where the interest goes back.
"I'll be very sad to see them go but I've had many years of enjoyment out of them."
Mr White is now retiring form collecting the war memorabilia.
Several of the WWII military vehicles have won awards at vintage rallies and events nationwide.
A 1943 Chevrolet Radio Truck is set to be sold complete with a rare 19 radio set, all tools and equipment, and has travelled less than 10,000 miles.
Auctioneer, James Morrish, said: "Everything works, everything is roadworthy. It's really exciting and to find it here in the heart of the Westcountry just outside of Plymouth is tremendous."
Mr Morrish estimated the Chevrolet Radio Truck could sell for between £50,000 - £80,000.