Women bishops: Diocese of Truro approval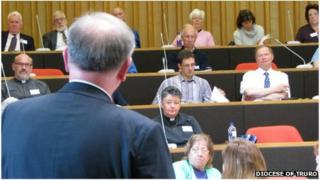 The Diocese of Truro has voted to approve the introduction of women bishops.
About 90% of the diocesan synod, which consists of more than 100 vicars, archdeacons, deans and lay clergy, voted in favour.
Its view will go forward with those of its 43 other dioceses at the Church of England's General Synod in July.
Bishop of Truro, The Right Reverend Tim Thornton, said he was not confident the General Synod would agree.
If passed, the legislation would go to Parliament for approval and could be in force before the end of the year.
Bishop Thornton said: "There are still significant numbers of people who are very anxious about the proposals, so it is still very uncertain as to whether we will get that majority."