Swarms of barrel jellyfish spotted off Cornwall's coast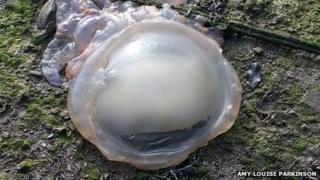 A swarm of large jellyfish boasting domes "the size of dustbin lids" has alarmed bathers along Cornwall's south coast. But what are these giant creatures and do they pose a threat?
"There are literally hundreds of them out there, possibly thousands," says Matt Slater, marine awareness officer at the Cornwall Wildlife Trust.
The 90-cm wide barrel jellyfish have tentacles that can hang down by as much as 6ft (1.9m) and are an intimidating sight for anyone going for a swim.
But looks can be deceiving. Experts say their stings are not powerful enough to harm humans, although people are advised not to handle them.
Normally the barrel jellyfish are only spotted out to sea but it is thought an unusually mild winter may have led to more plankton being available for the jellyfish to eat.
"Large numbers of larvae are produced at once and when the conditions are favourable that's why they survive," says Mr Slater.
"The conditions that would effect the survival are sea temperatures and food availability. The unusual winter with the heavy storms we have had may have helped and we've also had a mild winter which has probably helped too."
Barrel jellyfish have not been seen so close to shore since 2002.
"It's really exciting," says Mr Slater. "The last time we had large numbers of barrel fish was 12 years ago.
"There's been lots of reports coming in from the public. The hotspots seem to be the south coast including Falmouth and Fowey and almost up to Devon. They are amazing creatures."
Now divers are hoping the arrival of the barrel jellyfish in Cornwall will bring in another rare visitor.
"One of the biggest predators of the barrel jellyfish is the leatherback turtle," said Des Glover, a diver.
"We do get them but they are rare. Potentially they could come in as well, fingers crossed."
However the size of the barrel jellyfish becomes insignificant compared to one discovered in Australia in April.
Scientists there are working to classify a new species of giant jellyfish that washed up on a beach in Tasmania.
A family found the 1.5m (5ft) jellyfish on a beach south of Hobart.