Chunky the fat Cornish cat in search for new home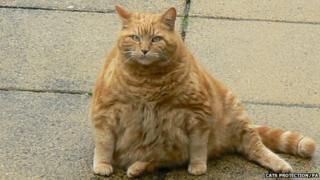 A fat cat who weighs more than 22lb (10kg) - double the recommended weight - is in need of a new home.
Chunky, a six-year-old cat, is being cared for by staff at Cats Protection's centre in Cornwall after his former owners admitted they were unable to help him lose weight.
He has a "significant risk" of health problems such as diabetes and arthritis, the centre said.
It added it was essential for him to lose the weight.
The charity said Chunky was "chatty" and would be best suited to a house without young children and other pets.
About 23% of cat owners believe their cat to be overweight, according to a survey of 1,120 cat owners by Cats Protection.