Cornwall cattle trampling victim calls for law change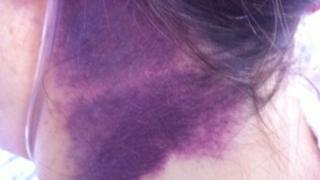 A woman from Cornwall who suffered serious injuries when she was crushed by cows in a field is calling for a change in the law.
Emma Smith said she felt "absolutely terrified" as she was trampled by the cattle while walking her dog on the Lizard in west Cornwall last June.
She is calling for farmers to separate cows with calves from public footpaths.
The NFU said it had "every sympathy" for Miss Smith but that it "wouldn't be possible to run farms that way".
Miss Smith said: "The right side of my rib cage was completely crushed. I had lacerations to my liver, broke both my wrists and suffered facial fractures.
"When I tried to move, they trampled me. I was trying to get away from them. I thought this is it, I am going to die.
"I could feel their breath on my face. I would wait until I couldn't feel that then I would try and crawl to the nearest electric fence."
Miss Smith said she did "everything right" on the day and did "nothing to agitate the cows".
The NFU said what happened was "very tragic and we have every sympathy for her" but such legislation was "easier said than done".
Ian Johnson, from the NFU, said "There are about 300,000 cattle in Cornwall and about 3,000 miles of footpaths and rights of way.
"We don't hear about many of these incidents. I can assure you the farming family in this case has suffered as well because of this."
Mr Johnson said the union was in discussions with people who want to walk in the countryside, but "farmers have to use the grounds they have got to convert into something they can sell."