Horse tug of war called off after welfare concerns raised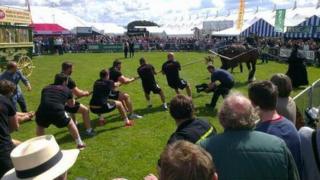 Tug of war bouts at the Royal Cornwall Show involving shire horses have been called off, show organisers say.
Seven-year-old shire stallion George, of the Lizard Stallions company, had been involved in bouts against rugby players on Thursday.
On social media, there were complaints that the animal looked stressed.
Lizard Stallions said it never put animals in danger. Show organisers said displays would not feature other bouts after they had "considered comments".
'Shocked' by display
One-tonne stallion George was involved in bouts with players from the Cornish Pirates.
However, the bouts were criticised on the internet.
Nicki Yaxley said on Facebook she was "Saddened to see a horse having to take part in a tug of war, it must be stressful for the animal."
Zoë Brotherton said she was "Shocked by your display at Royal Cornwall Show. I hope you'll reconsider ever doing this stunt again!"
Responding to comments on Facebook, the company - which provides shire horse experience days, horse-drawn carriages, and wedding transport - said shires had undergone 1,000 years of breeding to pull loads and "this is George's job five days a week during our busy period".
It said: "He weighs just over a tonne and believe me when I say, if he didn't want to do it he wouldn't."
It added: "We care considerably for our horses and would never put them in any danger. We are surrounded by very experienced animal professionals and no concerns have been raised by them."
On Twitter, Royal Cornwall Show organisers said: "We have considered comments some made regarding the Lizard Stallions. Their display will no longer include the tug of war challenge."