Gary Hughes's wife Marion pleads guilty to manslaughter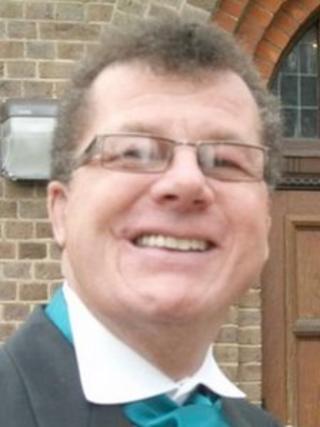 A woman who stabbed her husband through the heart with a kitchen knife as he lay in bed has been detained in hospital after pleading guilty to manslaughter.
Marion Hughes, 59, from Feock, near Truro, Cornwall, killed Dr Geraint Hughes, a GP, on 15 November.
Truro Crown Court heard she had psychotic delusions and wrongly believed he was having an affair.
High Court judge Mr Justice Teare said it was a "tragic event".
Bankruptcy fear
The court heard Hughes had gone to the kitchen in the middle of the night to get the knife.
She claimed she planned to kill herself, but got back into bed hiding it from her husband.
The court heard that at about 07:30 GMT she stabbed her husband and then dialled 999.
The court heard from psychiatrists, who said she was suffering from severe depression with psychotic delusion at the time of the offence.
She believed the couple were heading for bankruptcy when in fact they had a substantial home and savings, the court heard.
'Deeply missed'
Mr Justice Teare said: "Mrs Hughes was plainly a lady of good character before this tragic event".
Hughes, who was a GP for 30 years, suffered episodes of depression and received treatment between 1995 and 2003, the court heard.
Outside the court their son, Mark Hughes, said: "We all deeply loved Tiger (Geraint) and he is deeply missed.
"He did everything he could for mum throughout her illness.
"We hope we can move forward from this terrible tragedy."
The body of Dr Hughes, 60, was found by police at their home.
Hughes pleaded not guilty to a charge of murder, but admitted manslaughter on grounds of diminished responsibility.
Hughes was given a hospital order and has been detained at St Andrew's Hospital, Northampton.
She can only be released with the permission of the Secretary of State.