Cornwall 'wall of death' stuntman in 'biggest fall of career'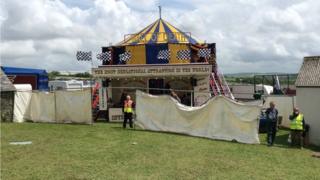 A motorcycle stuntman has described an accident he suffered at the Royal Cornwall Show as "the biggest fall of his career".
Ken Fox, from Cambridge, was performing his "wall of death" act which involves riding motorbikes around a vertical track at speed.
He was standing upright on a footrest when it snapped off.
Mr Fox described his injuries, including the loss of part of an ear, as "bumps and scratches".
'Bruised rear end'
He said: "From one end of the body to the next end of the body, they had to glue my ear back on as part of that came off so they glued that back on.
"I burned part of my face, friction burns, and I bruised my rear end up and my legs a bit."
An eyewitness told BBC News: "There was an air of panic with people screaming and running out of the tent."
He said: "He flew from the top of the wall down to the floor with the bike following him, he landed on the floor when the back of his head struck the floor.
"When it did go wrong it happened so fast. His face was totally calm, smiling and doing his routine and then it changed in a split second, it all happened in a couple of seconds."
Mr Fox, who is the founder of the Ken Fox Wall of Death troupe, has been riding since he was 16.
His troupe has featured in music videos and on television, including the BBC One idents showing stunt riders going around in a circle.