Telegraph Museum Porthcurno reopens after £2.5m refit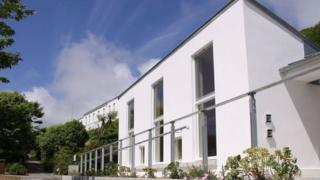 A Cornish museum has reopened after a £2.5m refit.
The Telegraph Museum Porthcurno, in West Cornwall, has been closed for nine months to create new exhibitions and better access for visitors.
The museum was the British hub for international cable communications from 1870-1970.
A number of organisations and trusts have paid for the redevelopment including £1.4m from the Heritage Lottery Fund.
Rachel Webster, from the museum, said: "Our archive has more than 10,000 historic images and we've enlarged a number of them and put them on display in our gallery which is double the size.
"We've also put objects on public display which have been in storage such as some old telegraph cable samples which were partially destroyed during World War One.
"The whole museum is more hands-on."
In 1870, an undersea telegraph cable was laid on the sandy beach, creating a high-speed communications link between Cornwall and Bombay.
Messages that would previously take days, weeks or months to send by packet ship took minutes.
Ms Webster said: "The telegraph was the high-speed broadband of its day, and it changed the world.
"Many people may be surprised to discover that such an important part of world history has its home here in Porthcurno."