Western Morning News launches Sunday edition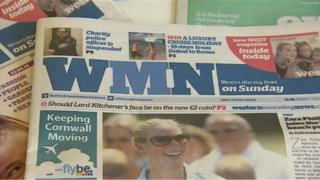 One of the South West's daily newspapers is launching a Sunday edition this weekend.
The Western Morning News says the new edition will suit its readership who have signalled they "want a product on Sunday".
Eight new staff have been recruited for the edition, which will be launched amid falling sales on weekdays.
Ten years ago the weekday editions were selling about 46,000 copies a day but sales are now about 26,000.
However, the Saturday edition sells nearly 40,000, which the company hopes reflects the extra time people have to read a newspaper at weekends.
Editor Bill Martin said: "It's no secret that the newspaper industry has been in decline for decades.
"If you'd asked me 12 months ago I'd have said we wouldn't be doing this.
"So it's a fantastic opportunity for everyone who is working on it and for the West Country as a whole.
"It's a really new and valuable thing that we hope people will really want to get behind."
The long established Sunday Independent, an existing South West Sunday paper, said it welcomed the competition.