Sun blamed for Gulval lorry blaze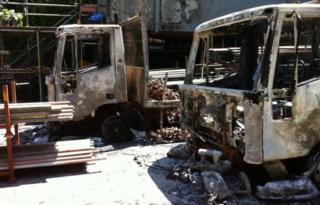 The hot weather may have caused a lorry fire, which also damaged three other vehicles in Cornwall.
CCTV footage showed the lorry's lights switch on, with no-one in the cab, before the engine ignited, Cornwall Fire and Rescue Service said.
Almost 20 firefighters tackled the blaze at Gulval, near Penzance, which started at about 05:20 BST.
A spokesman added direct sunlight shining on to the engine could have caused an electrical fault.
Fire investigator Mark Salter said: "There was no other ignition source.
"There has been a short circuit, we think as a result of sunlight which might have broken down a component."
He added it was a very rare thing to happen and was "the first time in almost four years as an investigator I've come across this possible cause".