Cornish tapestry reaching 100ft nears completion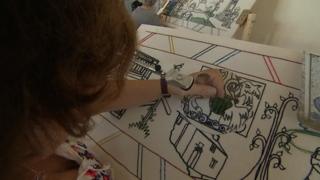 A 100ft tapestry depicting an illustrated history of a Cornish town is nearing completion.
The concept is to design, draw and embroider more than 50 scenes depicting the history of Saltash.
The 'living' community project aims to bring together local artists and craft workers.
The work, in honour of The Bayeux Tapestry, should be complete in 2015, when it will be open to the public.
The tapestry is made up of scenes from the Second World War, the Saltash Guildhall and the construction of the Tamar Bridge.
The Saltash Chronicles Embroidery Project was set up by Andrew Tritton, who first started sewing while he was in the Royal Navy.
Mr Tritten has worked with more than 60 members of the community since 2011 to design, sketch and stitch the panels.
He said: "This has taken up every hour of my life for the last three years and hopefully next year it will be completed. It will be about 104 feet long and open to the public."
Once complete, the tapestry, which will have taken 25,000 hours to finish, will portray 54 scenes of the history of Saltash.
It will be displayed in a number of churches before it is hoped a building will be acquired for it to hang long-term.
Mr Tritton said the piece is being created in honour of The Bayeux Tapestry, which is 70 metres long and was made in the 11th century.