Hit-and-run cyclist criticises Tehidy collision driver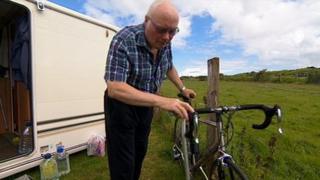 A cyclist who was the victim of a suspected hit-and run collision in Cornwall says he does not understand how a driver could leave him in the road with serious injuries.
Douglas Elliot, 68, suffered a broken pelvis in the incident near Tehidy on Saturday and is currently unable to drive home to Yorkshire.
Mr Elliot said he hoped the driver "could sleep at night".
Police said they were trying to trace a Ford Fiesta which failed to stop.
Retired tractor and lorry driver Mr Elliot, from Sheffield, was returning to a campsite at about 11:20 BST when he was hit by a car from behind.
'A bit isolated'
He said the driver "must have known" he had been hit.
"It went with a bang," he said. "She had no intention of stopping.
"I wonder how people can sleep if they can do that thing and leave them [collision victims] in the middle of the road."
Mr Elliot was assisted by another motorist who arrived at the scene, on Mount Whistle Road.
He says he is due to leave Cornwall on 1 July but is currently on crutches and has difficulty moving.
"I'm a little bit isolated," he said.
But he said the collision would not put him off cycling.
"If motorists cycled as well, they'd learn a bit about the vulnerability of it," he said.
The car is believed to have been driven by a woman who is in her 20s and has bleached-blonde hair.