Cornwall GP trainee places go unfilled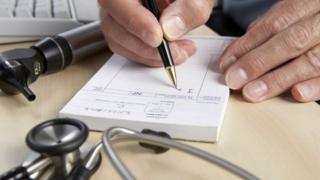 NHS figures seen by the BBC show fewer doctors wanting to train as GPs in Cornwall and the South West.
Doctors groups are warning of a crisis amid claims of unmanageable workloads, inadequate funds and stress.
Health Education England, an NHS body, says this is the first year since 2010 there has not been a 100% take-up of GP training places in the region.
The government says it is increasing trainee places so GP numbers grow faster than the population.
Dr Beth McCarron-Nash is a Truro GP and a spokeswoman for the British Medical Association.
"In the South West for the first time we have vacancies in Cornwall and that's basically because young doctors don't want to be GPs and the reason they are not choosing to be GPs is the unsustainable workload," she said.
Increasingly unattractive
In Cornwall, 93% of GP training vacancies were filled while around the UK the "fill rate" is 86%.
There are 451 unfilled vacancies nationwide, largely in the north of England and Scotland.
Dr Peter Merrin, a GP in Perranporth, said recruitment goes in cycles.
"We're reaching the bottom of the cycle but the difficulty is in knowing if it is ever going to go up again because it is becoming increasingly unattractive to come in to," he said.
A Department of Health spokesperson said: "We have cut GPs' targets by more than a third to free up time with patients, and are increasing trainees so that GP numbers continue to grow faster than the population.
"The latest data shows the number of GPs has gone up by over 1,000 since 2010."