Cornwall hospital trust board faces pay cut call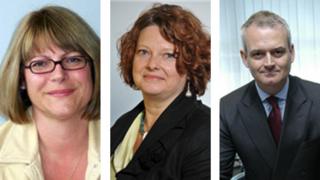 A former Royal Cornwall Hospitals Trust vice-chairman is calling on board members to take a pay cut.
Rik Evans, who resigned in May, said cutting the pay of the board's seven executives would send a "positive signal" to staff.
Executives' total remuneration, including salary, performance pay and benefits, was more than £855,000 in 2012/13.
The trust said it always kept executive pay under review.
'Be fair'
Mr Evans, who quit over a decision to contract out "hotel services" such as porters and cleaning staff at the hospital, said the number of employees had fallen and so should board members' pay.
"At a time when other employees of the trust are having to endure below-inflation wage increases, it is time for the board to show that 'we are all in this together'," he said.
"The board members are good people, but all I'm saying is, 'let's be fair', because their employees are struggling with the cost of living."
The RCHT board's chief executive Lezli Boswell earned more than £170,000 in 2012/13 and chief operating officer Jo Gibbs and deputy chief executive Andrew MaCallum both earned more than £135,000.
The median pay of RCHT staff was about £26,500 in the same year.
Nick Macklin, director of human resources, said: "Rik Evans was a member of the trust remuneration committee for several years and will know that it always keeps under review executive pay and must take into account a wide range of factors and national guidelines to determine senior pay.
"It is wrong and misleading to say the trust executive team is no longer responsible for hotel services and staff. We remain accountable and responsible for ensuring high quality services to patients."